To create a new course:
1. Click the Courses link, and then click New > Create Course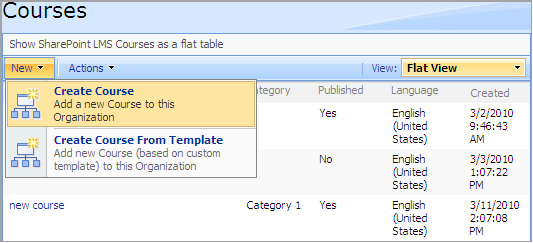 Fig. Create Course
2. Fill out the following form according to the fields requirements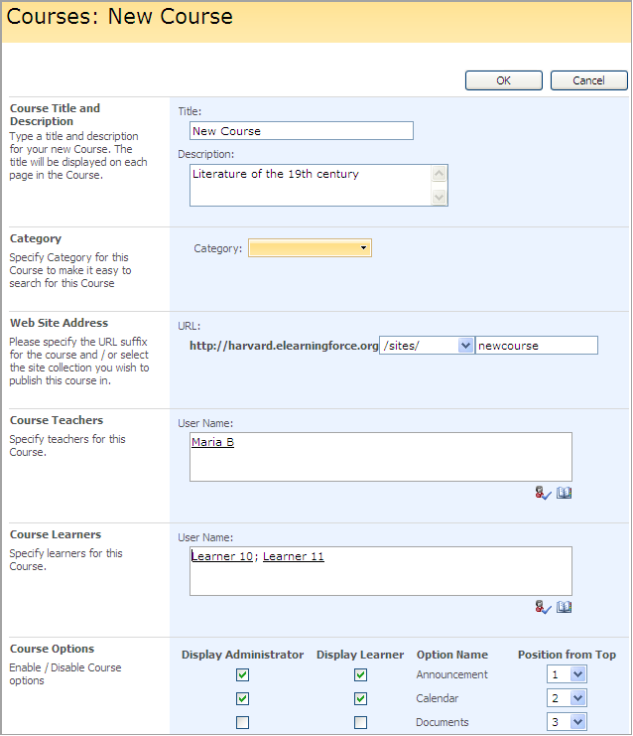 Fig. Creating the Course
- Course Title and Description – write the name and description for the course
| | |
| --- | --- |
| | |
| Note: | When creating courses with the same names in different organizations make sure they have different URLs. |
- Category – specify the course category
- Web Site Address – specify the location for the course. The URL of organizations and the courses in organizations MUST not coincide
- Course Teachers – specify teachers for the course
- Course Learners – specify learners for the course
| | |
| --- | --- |
| | |
| Note: | It is recommended not to enroll one and the same user to more than 100 courses as it may result in incorrect performance. |
- Course Options – check the course options you want to be present in the course
Note:

Disabling feature on the organization level will not delete it on the course level, i.e. tool information (including tool webparts) will remain.

Note:

Disabling a tool on the course level will hide the data it contains. To make the data visible, enable the tool once again. When a tool is disabled, user still can access it via a direct link.

Teachers are allowed to hide Learners and Groups, Gradebook and Documents tools (not possible in version 2.0) as well as other tools. Learners are allowed to hide the Documents and Gradebook tools (not possible in version 2.0) as well as other tools.

The Learning Path tool is visible if either all or some of its items (a SCORM, an LRM or a Learning Path) are enabled. If some item is disabled, the link will not be available on the Create page either.
- Publishing – specify whether you want to publish the course. If Yes, specify Start Date and End Date
- Scale Template – select the grade for the course grade book
- Time Table Template – indicate timetable for the course if any
- Course Menu Style – select menu style for the course
- Master Page – specify course design page
- Language – specify the language for the web site collection
- Quota Template – indicate quota template to limit resources used for the collection