14.6 Approving/Returning Assignments or Saving as Draft
Teacher can approve or return to a learner or save as draft any submitted assignment.
To approve/return/save as drat an assignment,
1. Enter the Assignments tool section
2. Select a necessary assignment in the calendar
3. Click View Learner's Assignment
Fig. View Learner's Assignment
| | |
| --- | --- |
| | |
| NOTE: | The View Learner's Assignments link will not appear until a task is generated. |
4. Click the name of a necessary assignment
5. In the opened form click Edit Item
6. The following window will appear: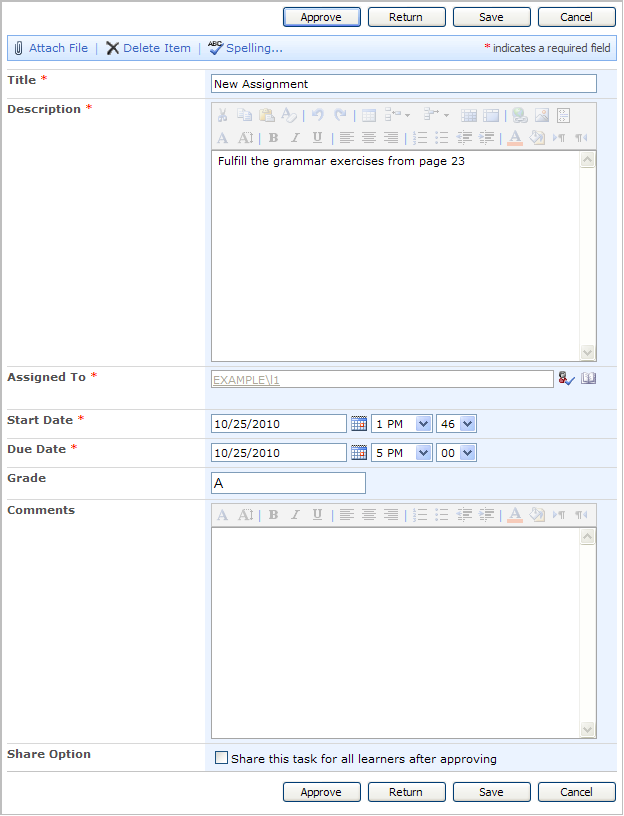 Fig/. Approving/Rejecting Item
7. Click Approve to approve the task, click Return to give the assignment back to a learner so that he/she would correct it, click Save as Draft to save the settings without sending the task to anyone.
After you grade learner's assignment task and save it as a draft, by default this grade will not appear in the GradeBook.
NOTE:

In courses version 2.1.15 – 2.1.24 a user should set this option manually. To do it, enter the assignment tasks list, go to Settings > List Settings > Versioning Settings.

Set Yes for Content Approval and Only users who can approve items (and the author of the item) for the Draft Item Security option. Otherwise, draft items will be displayed in the GradeBook.