16.4 Viewing and Posting Replies
To read replies posted for a certain topic or post your own replies:
1. Enter the necessary course.
2. Click the Discussion Board item in the left Tools menu.
3. Point over the necessary discussion and press the down arrow in the appeared box.
4. Select Edit Item from the drop-down list.
5. Choose the necessary topic, click its name in the list and select View Item from the context menu. The system will open topic details page.
6. Click Open in the top left corner of topic details: you will be able to see all replies posted earlier.
TIP:

Column names at the top of the list are clickable and allow you to sort announcements in ascending or descending order:

a. Use the Subject link to sort or filter replies by subject;

b. Use the Created By link to sort or filter replies by author;

c. Use the Last Updated link to sort or filter replies by the last updated date;

d. To remove filter criteria, click the column name and select Clear filter from option from the context menu.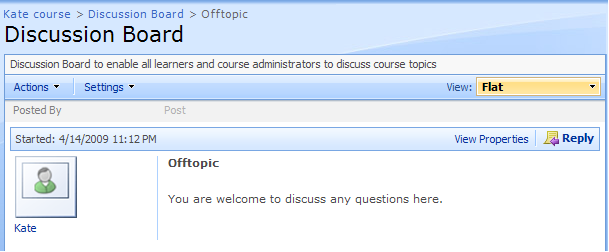 Fig. 'Viewing Replies'
| | |
| --- | --- |
| | |
| NOTE: | Note that if corresponded permissions are granted to you, you may have an ability to manage topic replies. To do so, click the View Properties link next to the required reply and choose whether to create a new reply, edit or delete the reply, or work with notification settings. |
7. To reply to a certain post, click the Reply (
) button, enter your reply with the help of the Visual Editor, attach a file if needed and save changes: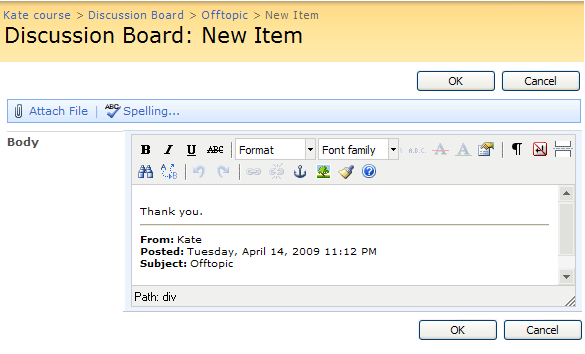 Fig. 'Posting a Reply'