The Discussion Board tool allows tracking the information about topics discussed, discussions user takes part in, replies user submits etc.
To view user information,
1. Enter the Discussion Board tool.
2. Press the Settings button at the top.
3. Select User Information.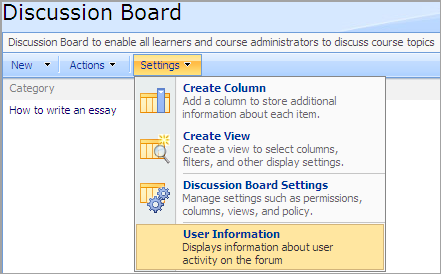 Fig. User Information
4. The following window will appear.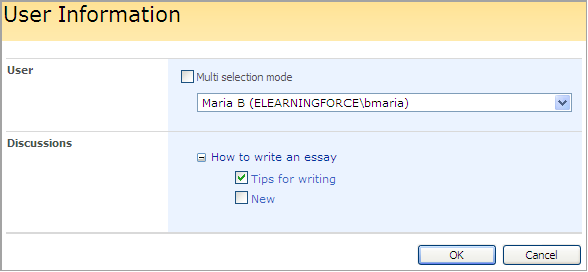 Fig. Selecting Users and Discussions
- User – from the drop-down list select a necessary user. To select several users, check the Multi selection mode box.
- Discussions – select a folder and check necessary discussion(s).
| | |
| --- | --- |
| | |
| NOTE: | Administrator can view information about any user while other users can view information only about themselves. |
5. Click OK. The following table will appear: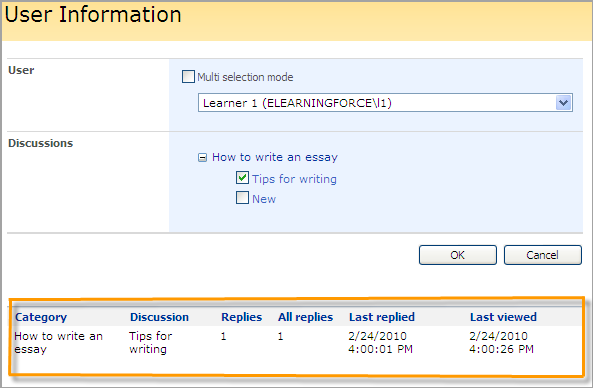 Fig. Viewing User Discussions
The table consists of the following columns:
- Category – displays the folder the discussion is located in
- Discussion – displays the name of the discussion
- Replies – displays the number of replies submitted by the current user
- All replies – displays replies submitted by all users
- Last replied – displays the date of the last reply entered by the current user
- Last viewed – displays the date when the current user viewed the discussion last