19.4 Setting Course as Complete (Automatic Completion)
To make sure the course can be graded automatically you need to configure the course completion settings. To do that, go to Gradebook>Settings>Gradebook settings>Setup course completing settings and fill the following form: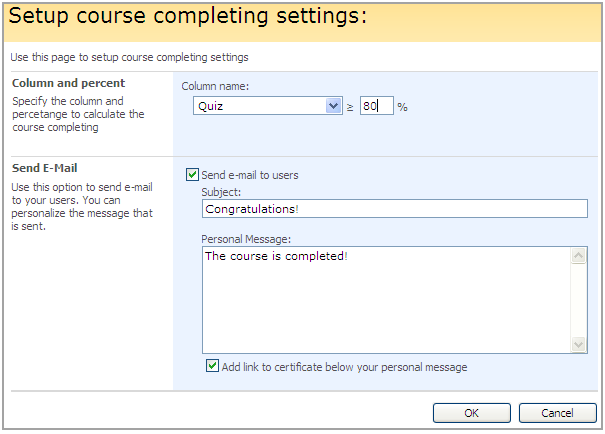 Fig. Course completion settings
- Column and percent – select previously added existing/custom and the percentage which will indicate course completion
- Send e-Mail – you may choose to send a completion email to the learners of the course. In this case you need to specify:
o Subject of the email
o Personal message of the email
o Check the Add link to certificate below your personal message box if you want to include a link to certificate into the email. A certificate already granted to a learner can be deleted, but not edited. To delete a certificate, press the Edit Item button (

) next to the necessary learner and uncheck the Certificate Issued box.
Once a user scores the number of points necessary to complete the course he will be marked as a student who completed the course in the grade book.
NOTE:

For learners to be able to receive course completion email additional settings should be configured:

1. Outgoing email settings (configured by SharePoint administrator in Central Administration>Operations>Outgoing E-mail Settings).

2. Learner's email should be specified in his/her profile settings. The email address should be pertinent to the domain indicated in the outgoing email settings.