The Mailbox option allows you to send and receive e-mail messages.
To work with the mailbox enter the necessary course and click the Mailbox icon in the left Tools menu. The system will show contents of your mailbox:

Fig. Mailbox
TIP:

For better representation, you can modify the list view. From the View list select what messages should be visible: all (my items), sent or received.

Column names at the top of the list are clickable and allow you to sort messages in ascending or descending order. In addition, you can filter messages by various criteria:

§ Click the Subject, Created, From or To links and select the required value (all messages that do not match the selected criteria will be hidden);

§ Use the attachment column link to display messages with or without attachments only.

§ To remove filter criteria, choose the necessary link and select Clear filter from option.
The Actions and Settings buttons at the top of the list allows performing actions and operations typical for SharePoint (see the SharePoint List of Actions and Settings topic for details).
To preview a mailbox message, click its name in the list.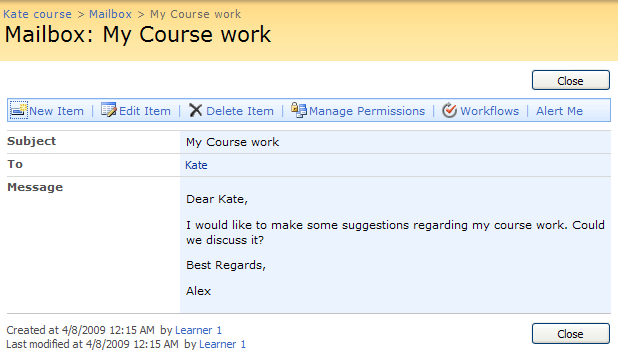 Fig. 'Mailbox Message'
Buttons at the top of the message allow performing the following operations:
§ Click New Item to create a new message;
§ Click Edit Item to modify the message;
§ Click Delete Item to move the message to the Recycle Bin;
§ Click Alert Me to work with notification settings.
To close the message and go back to the mailbox, click Close.