Information can be modified by users belonging to one of the staff groups. Note that users can modify information only about themselves.
User can modify either information itself or information view.
Ø To modify the details, click the Edit link under user information. If you have MOSS 2007 installed, you'll be redirected to the My Site page. If you have WSS 3.0 installed, you'll be redirected to the User Information page.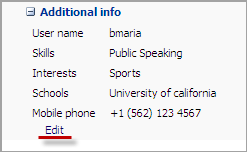 Fig. The Edit Button
Ø To modify information view (the option is available for users with the Teacher, Teacher assistants and Faculty access rights),
1. Press Display Settings at the top and click Modify Additional Information.
Fig. Modifying Additional Information
2. Select the items you want to be displayed on the Staff tool main page.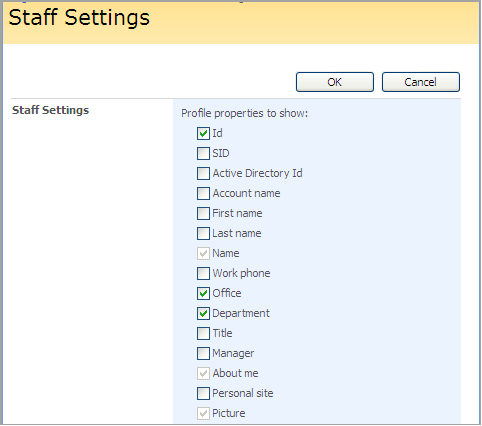 Fig. Staff Settings
3. Click OK to save settings. Click Cancel to discard changes.
| | |
| --- | --- |
| | |
| NOTE: | Information view can also be modified via the Central Administration section. Enter Application Management -> LMS -> Global features -> Profile Settings and manage the Staff column. |