To add a report,
1. Click the Reports link in the menu on the left

Fig. Adding Report
2. In the Reports window click New>Report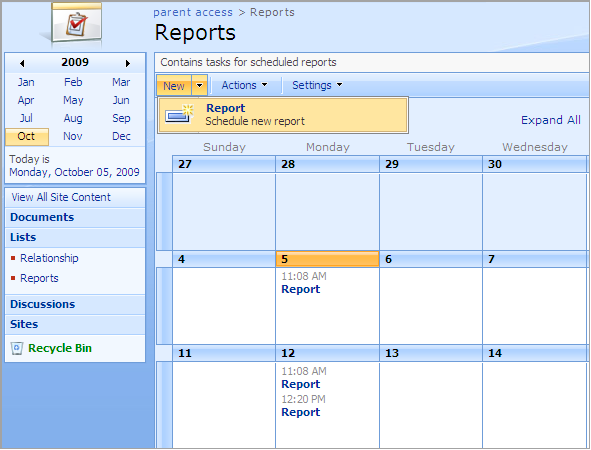 Fig. Reports: New Item
3. In the Reports: New Item window fill out the fields as required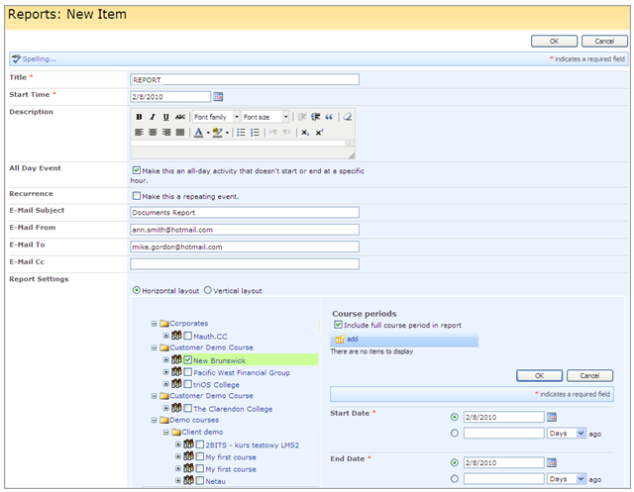 Fig. Adding Report
- Title – type in a title for the report
- Start Time – specify the time when the report becomes valid
- Description – type in a short description of the report
- All Day Event – check the box if you want to make the report an all-day event
- Recurrence – Select the check box if the report should be repeated with a certain interval. Specify the recurrence details with the help of section controls
Select the recurrence interval (for example, Weekly or Monthly)
In the Pattern section define the days when the report should be generated
In the Date Range section specify the start and end day for the report.
- If you want to send the report as e-mail, fill out the following fields:
§ E-mail Subject – enter the subject of the e-mail (for example, it can be report title)
§ E-mail From – enter the sender's email address
§ E-mail To – enter the address to which the report should be sent
§ E-mail Copy – you may enter another e-mail address to which the report will be sent
- Report Settings – use this section to:
§ Select the report layout: horizontal or vertical
§ Select the course for the report: select the checkbox against the course for which you want to get the report
| | |
| --- | --- |
| | |
| NOTE: | If you click the name of a course the Course periods tab will appear. Include full course period in report is checked by default. If you uncheck the box, however, you can create your own period which you would like to be displayed in the report. To add a period click Add and specify the start and the end date. |
4. Click OK to confirm the settings. Click Cancel to discard changes.