5.7 Saving Course as a Template
Courses can be saved as templates which can be further used for creating new courses.
To save course as a template,
1. Enter the Courses section
2. Either select Save as Template from the drop down menu of a necessary course or from a drop down menu of any course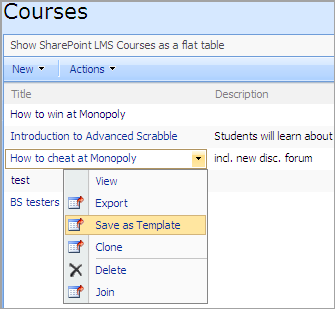 3. Enter a title for the template and select a course you want to save as template. If a course has already been selected, the operation may be skipped.
NOTE:

Templates will contain the following items:

- Course tools (learners data such as, for example, attempts, will not be saved)

- Custom lists (if lists have specific access rights, only access rights relevant for SharePoint groups will be saved)

- SharePoint groups

- SubWebs

- Navigation

Data from Learning Path, LRM, SCORM, Quiz, Survey, Grade Book, Assignments, Drop Box, Discussion Board, Chat, Conference, Reports and Mailbox is not exported.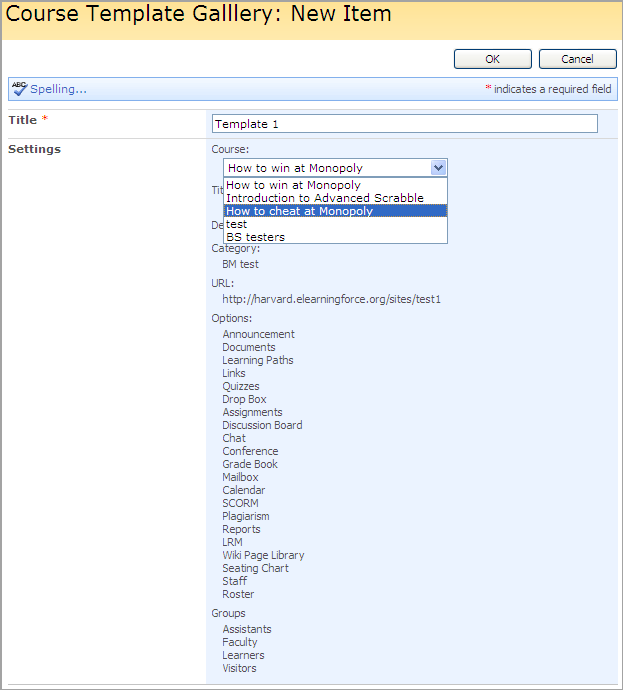 4. Click OK to save settings. Click Cancel to discard changes.