32.1 SharePointLMS Organization Level Administration
Organization Administrators are setup on the LMS installation step. Please refer to the Managing Site Organizations section of Install and Management Guide.
To change the Organization Administrators, open Site Actions->Site settings on the organization page and find the Site collection administrators link in the Users and Permissions section.

Fig. Organization Administrators
Use the Browse icon (

) to select user(s) from the directory service. Click OK to save changes or Cancel to discard changes.
Farm Administrators can also add/delete Organization Administrators via SharePoint Central Administration using native SharePoint permission management.
There are two types of users who can create Courses within a specific Organization site collection. The first type is Organization Administrators, the other one is the Course Creators group members.
To setup Course Creators group, click the default link on the Organization front page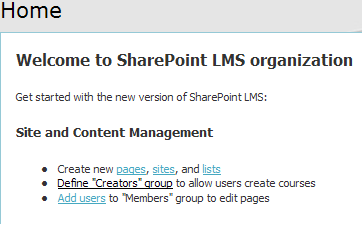 Fig. Define the Creators group link

Fig. Setting up the Creators group
Select Use and existing group to add/delete users within the group or Create a new group to add other groups.
See below the permissions for the Creators group:
| | |
| --- | --- |
| | |
| Tool | Course Creators Users Group |
| Organization scale templates list | Read |
| Organization time table templates list | Read |
| Create course ability | Full |
| Course Export | No |
Visitors (All authenticated users by default - in case it was set on the installation step – please refer to the Site Access Setting" section of Install and Management Guide) can browse through the LMS but don't have access to Course tools or the possibility to add/change/delete data.
To change Visitors, open Site Actions->Site Settings-> Advanced permissions in the Users and Permissions tab.

Fig. Setting up the Creators group
Apply the Read permission for users and groups who will access Organization site collection as a Visitor