The Documents section of the system allows you to create a repository of files that can be downloaded or viewed online by your students.
To work with course documents enter the course and click the Documents link in the left Tools menu. The system will display a list of course folders and documents organized as a tree structure. Each folder or document in the list is characterized by its type, name when it was modified, person who last made changes to the document and description.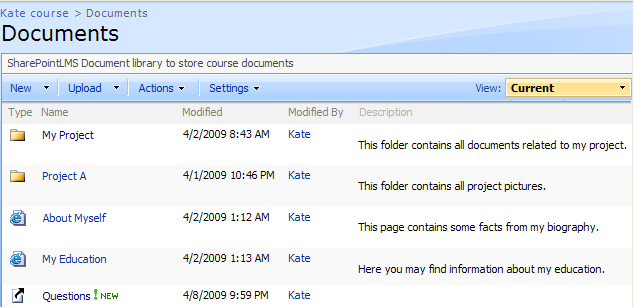 Fig. 'Course Documents'
To view or download a document, click the document name link in the list. Depending on the type of the file, the system will either display the document or will offer it for downloading.
TIP:

For better representation, you can modify the list view. From the View list select the necessary view (select Explorer View to load a standard Windows Explorer window into the workspace area).

Column names at the top of the list are clickable and allow you to sort documents in ascending or descending order:

1. Use the Name link to sort documents alphabetically by name

2. Use the Type link to sort or filter documents by type;

3. Use the Modified and Modified By links to sort or filter documents by modification date or by the person who last made changes to the documents;

4. To remove filter criteria, click the necessary link in the column head and select Clear filter from option from the context menu.
The Actions and Settings buttons at the top of the list allows performing actions and operations typical for SharePoint (see the SharePoint List of Actions and Settings topic for details).