To create a new wiki page:
1. Enter the course and open the Documents link in the left Tools menu.
2. At the top of the list click New and select Wiki Page. The following form will appear: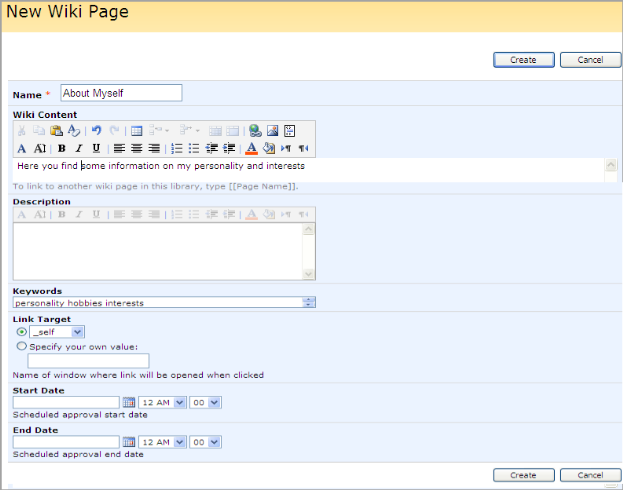 Fig. 'Creating a Wiki Page'
3. Fill out the form fields as described below:
- In the Name field enter the name for the wiki page.
- Use the embedded HTML editor to create wiki content.
- Use the HTML editor to create the description for the wiki page.
| | |
| --- | --- |
| | |
| TIP: | There is no spelling checker in the wiki page creation form. To check the spelling, create a page, go to the list of documents, select the necessary wiki page and click Edit Properties. |
- Keywords – specify words which will help learners find necessary documents (keywords should be entered in the site search field at the top of the page)
- Link target – specify a link target. Select one from the drop-down list or specify your own value.
- Start Date:
o Enter scheduled approval start date.
- End Date:
o Enter scheduled approval end date.
TIP:

You may create a link to another wiki page in this library. Enter the name of the page as follows: [[Page Name]]. For example, to link to the My Education wiki page type [[My Education]]. Use the Link Target section to set the link target.

Link Target. From the drop-down list select one of the following targets: self, parent, blank, top. You may also specify your own value: select the Specify your own value radio button and enter the name of the window where link will be opened when clicked.