8.7 Creating a Website Package
To create a new website package:
1. Enter the course and open the Documents link in the left Tools menu.
2. At the top of the list click New and select Website Package. The following form will appear:

Fig. Upload Website Package
3. Browse a file. If a file with the same name already exists in the library, and you want to replace it with the newly uploaded file, check the Overwrite existing files box.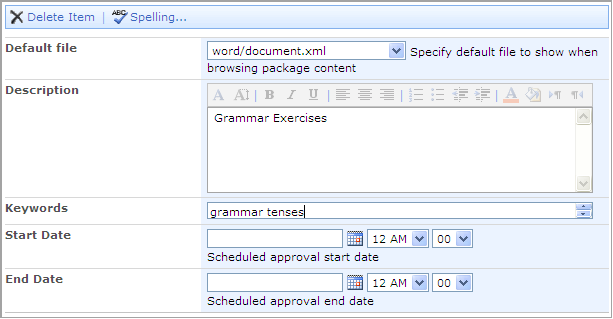 Fig. 'Creating Website Package'
4. Fill out the form fields as described below:
- In the Default File field enter the name for the website package.
- In the Description field create the description for the website package.
- Keywords – specify words which will help learners find necessary documents (keywords should be entered in the site search field at the top of the page)
- Start Date:
o Enter scheduled approval start date.
- End Date:
o Enter scheduled approval end date.
5. Click Ok to save settings or Cancel to discard.