To upload a document:
1. Enter the course and open the Documents link.
2. In the library open the folder to which the document should be uploaded.
3. Press the Upload button at the top of the page and select Upload Document. The following form will be opened:

Fig. 'Uploading a document'
4. Browse a file at the local machine. If a file with the same name already exists in the library, and you want to replace it with the newly uploaded file, select the Overwrite existing files check box. You can as well pass to uploading multiple files by pressing the corresponding link.
5. Press Ok to upload the file. Once the document is uploaded a form for updating the file's properties will be opened: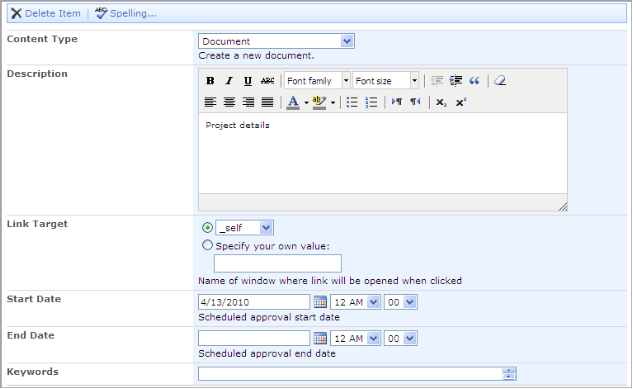 Fig. 'Specifying the properties of the document'
6. Fill out the form fields as follows:
- Content type – select type for the document.
- Description – enter the description of the file;
- Link Target – select the target for the link from the drop-down list or select the Specify your own value radio button and enter the link URL into the field.
- Start Date:
o Enter scheduled approval start date.
- End Date:
o Enter scheduled approval end date.
- Keywords – specify words which will help learners find necessary documents (keywords should be entered in the site search field at the top of the page)
7. Click Ok to save settings or Cancel to discard.