9.6 Uploading LRM compliant course content
The learning path tool allows you to upload LRM compliant course contents.
LRM is the native Microsoft Class Server format for eLearning content storage. The development of learning materials in the LRM format allows whole courses or small content units to be used on Microsoft Class Server and SharePoint 2.0 Learning Management System (LMS).
To upload an LRM package:
1. Enter the necessary course and press the Learning Path link in the left course menu.
2. Press the Create button in the header of the page.
3. Select LRM.
4. In the opened form specify the fields as described below: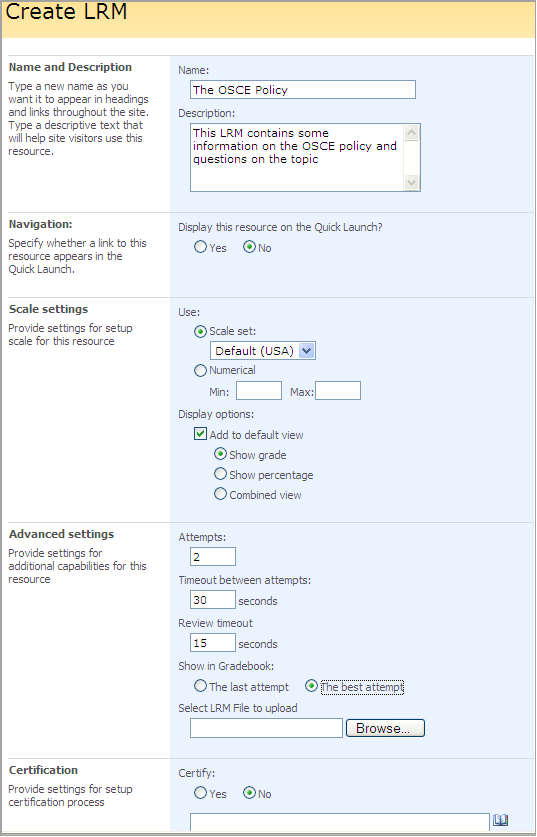 Fig. 'Creating LRM
Fill out the form fields as described below:
- Name – enter the title for the LRM;
- Description – enter description for the LRM;
- Navigation – select Yes to display a link to the LRM on the Quick Launch;
Scale Settings
- Choose either Scale set or Numerical to specify scale for this resource. Note that when you choose Numerical you may indicate your own values for the scale.
Advanced Settings
- Attempts – specify the number of attempts user has to take LRM;
- Timeout between attempts – specify the period between every attempt;
- Review timeout – specify time for LRM to be reviewed;
- Show in Grade Book – specify whether you want the last or the best attempt to display in the Grade Book section
- Browse – press the button to upload the necessary LRM package;
Certification
- Certify – select Yes to enable certification for this LRM. Use the Browse button to select certificate template for the LRM.
Publishing
- Schedule – select Yes to schedule the LRM for a specific date and time,
- In the Start Date field enter the start date. From the drop-down lists select hour and minutes when the learning path should be published.
- In the End Date enter the end date when publishing stops. Use the drop-down lists to specify end time.
Click OK to save the changes or Cancel to discard changes.
Once an LRM is created, it will appear on the Leaning Path page.