11.6 Saving Quiz as a Template
1. Enter the necessary course and press the Quizzes icon in the left Tools menu
2. Find the necessary quiz and click its name
3. Select Settings from the drop-down menu
4. In the Permissions and Management section select Save quiz as template
The following form will appear: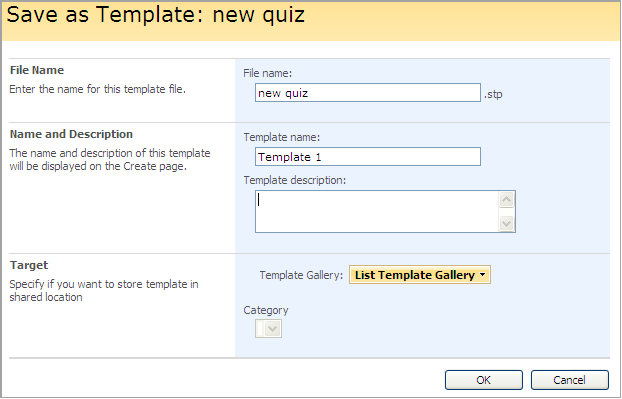 Fig. 'Save Quiz as a Template'
Fill out the form fields as described below:
- File Name – enter the name for the template file
- Template Name – enter name of the template. This name will appear on the Create page
- Template Description – enter the description for the template
- Click the Template Gallery button and choose the gallery you want to save the template to
Note:

If you want to enable other courses and teachers to use the template, you should save it to the List Template gallery of the organization (not to the List Template Gallery of the course).

Fig. 'List template gallery'
- From the Category drop-down list, select a category for the quiz template
| | |
| --- | --- |
| | |
| Note: | Only quiz templates in the same language can be imported for reuse in other courses. |
2. Click OK to save the changes. Click Cancel to discard changes.