14.4 Modifying Assignment Tasks
All assignment tasks can be edited.
To edit an assignment task,
1. Enter the Assignments section
2. Click the name of a necessary assignment. The following window will appear: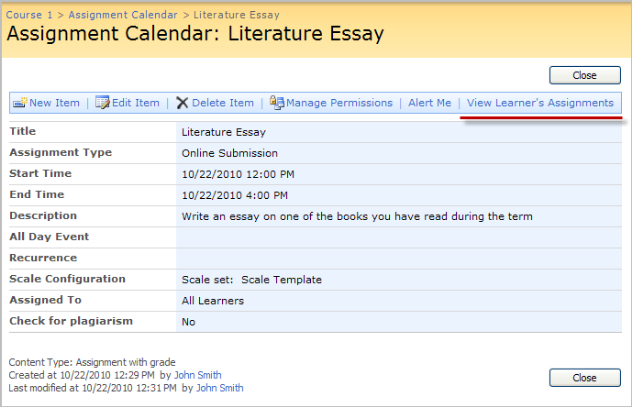 Fig. Viewing Learners' Assignment Tasks
| | |
| --- | --- |
| | |
| NOTE: | The View Learner's Assignments link will not appear until a task is generated. |
3. Click View Learner's Assignments (see the picture above). You will see the list of learners and their assignments:

Fig. Assignment Task List
4. Select View Item from the drop-down menu next to the item you want to view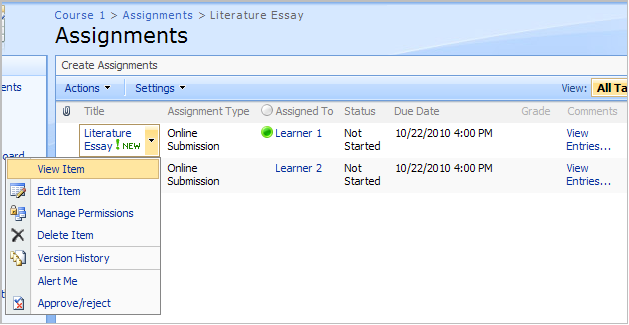 Fig. Assignments: Viewing Item
5. Select Edit Item from the menu at the top
6. The form for item editing will appear. Modify the necessary fields according to your preferences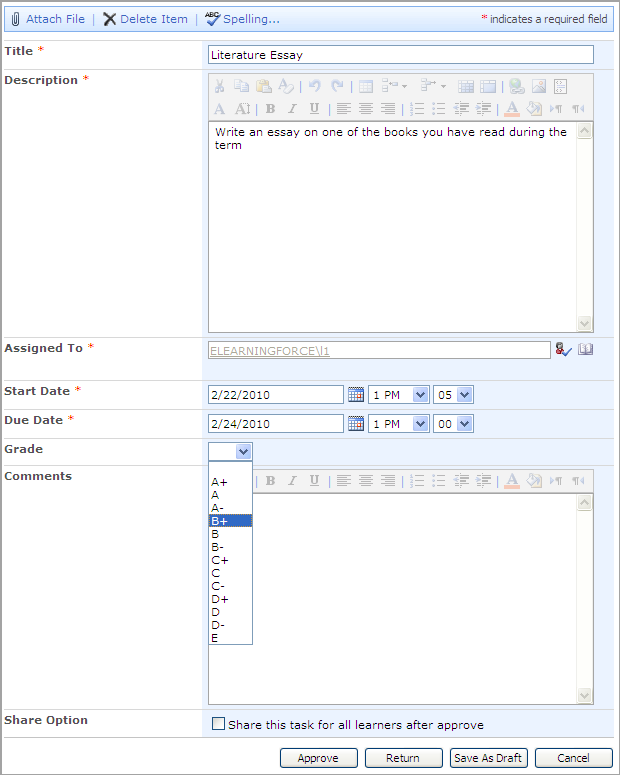 Fig. Modifying Assignment Task
NOTE:

Assignment tasks can be modified by both Learners and Teachers. Learners can modify tasks if they have the corresponding permissions. Permissions usually depend on task status. See the table below:

| | | |
| --- | --- | --- |
| | | |
| Task Status | User Role | Permission |
| Completed | LMS Extended Reader | View |
| In Progress | LMS Limited Contribute | Edit |
| Not Started | LMS Limited Contribute | Edit |
| Waiting | LMS Extended Reader | View |

The View type permission means that learners can only view items and attached documents.

The Edit type permission means that learners can view, edit items and view, edit or delete documents which they attached. Note that once documents are attached/edited by teachers they cannot be managed by learners.

Once a task is generated and saved as draft by teacher, it cannot be managed by Learner despite the Learner sees the task status as Not Started.

For more information about task statuses, see the Task Status paragraph.