The Home page is the first page displayed upon user authorization. This page is available to any member of Microsoft Office SharePoint Server 2007 or Windows SharePoint Services 3.0 with corresponding permission levels (to learn more about the access levels, refer to the LMS User Roles and Permissions section).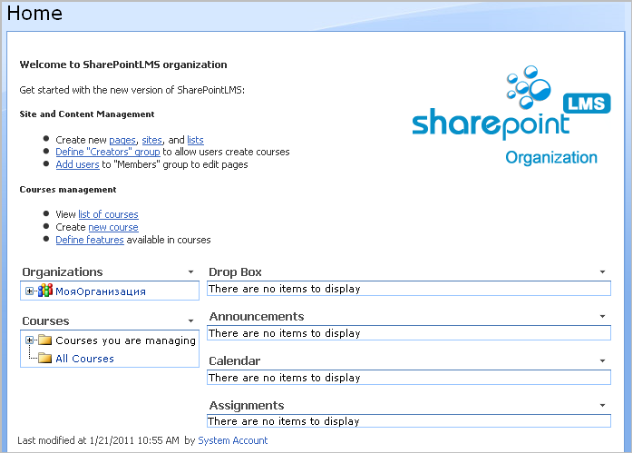 Fig. 'Home Page'
The Organization Home page may consist of several sections.
- Left side menu displaying links to courses and courses list, all site content link, etc.
- Site and Content Management – the section allows creating new pages, sites and lists, adding users to the Members group, etc.
- Courses Management – the section allows viewing the list of courses, creating courses and defining features available in courses
Except for these sections, all the other sections are Web Parts which can be hidden or shown.
More information about Organization Web Parts you can find in the Web Parts on the Organization Level section.
Customizing Course Home Page
You can customize the visual representation of the Organization Home page. To be able to make changes:
1. Open the Organization Home page.
2. In the Site Actions menu, select Edit Page. You will be switched to the edit mode.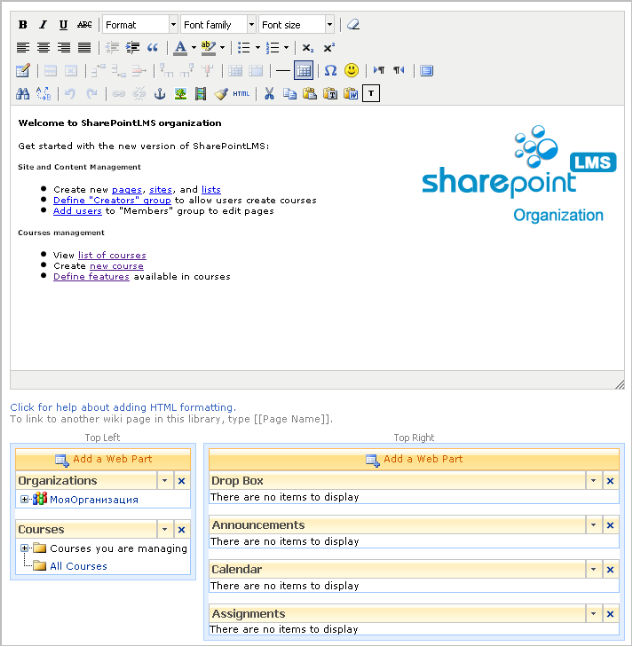 Fig. 'Editing Organization Home Page'
3. Make the necessary changes to the page:
- At the top of the page enter the page name.
- Use the HTML editor to create description of the course. This description will be displayed at the top of the Organization Home Page.
- Also you can insert a multimedia content at the top of the page using the Insert/edit embedded media tool: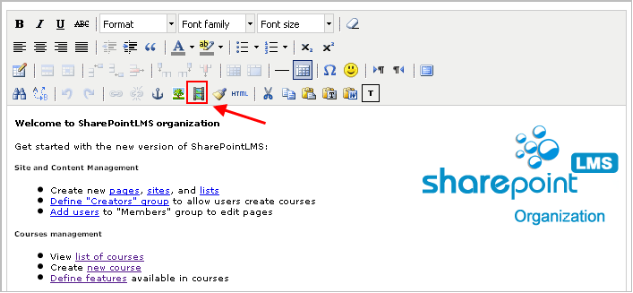 Fig. 'Insert/Edit Embedded Media'
The Insert/edit embedded media editor window will open: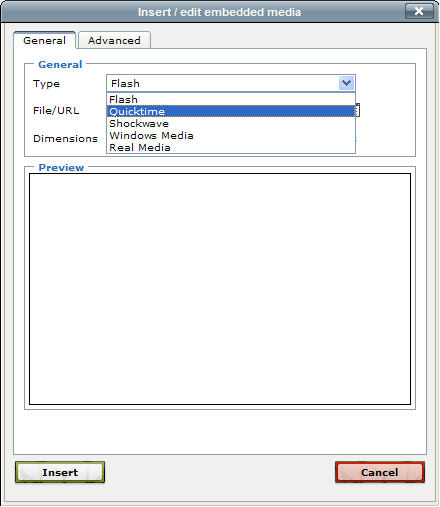 Fig. 'Insert/Edit Embedded Media Editor'
Select the file type depending of the extension of the required file:
File Type

File Extension

Flash

.swf

Quicktime

.mov

.qt

Shockwave

.DCR

Windows Media

.wmv

.avi

Real Media

.rm
Enter the URL of the file or select the file from the library using the Browse (

) button.
Specify the file dimension. Click Insert.
You can see that the page is divided into panes: Right, Top Left, Top Right, Center Left, Center, Center Right, and Footer where Web Parts can be added. You can find information about Managing Web Parts in the Managing Web Parts section.