Announcements are intended for informational purposes: a user who needs to share some important message with others should create an announcement that will be viewed by all course participants (Students and Teacher). The information will be displayed on the Home Page, as well as on the Course Home page (if other is not specified by the Course Home page settings).
To pass to the Announcements section enter the necessary course and click the Announcement icon in the left Tools menu. The list of available announcements will be shown in the main workspace area: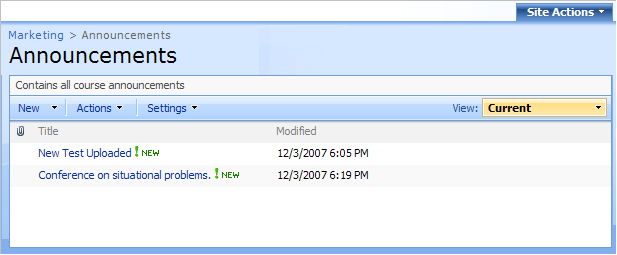 Fig. 'Announcements'
The home page of this section displays the list of announcements for the current month with a possibility of their editing and deleting. To work with an announcement click its name and select the necessary option form the context menu.
TIP:

For better representation, you can modify the list view. From the View list select the necessary view (select Current to view up-to-date announcements, select All to view all announcements).

Column names at the top of the list are clickable and allow you to sort announcements in ascending or descending order:

Use the Title link to sort or filter announcements by title;

Use the Modified link to sort or filter announcements by modification date;

To remove filter criteria, click the necessary link in the column head and select the Clear filter option from the context menu.
The Actions and Settings buttons at the top of the list allows performing actions and operations typical for SharePoint (see the SharePoint List of Actions and Settings topic for details).