The feature allows sharing course library documents between other courses and organizations.
First, the feature should be enabled for the site collection which documents will be shared. For site collections where links to documents will be located the feature activation is not required.
To activate the feature,
1. Enter Site Actions> Site Settings> Site Administration> Site features.
2. Press the Activate button against the SharePointLMS Shared Documents Feature.

Fig. Shared Documents Feature Activation
Once the feature is activated, you may share documents.
8.12.1 Creating document shortcuts between courses managed by the same teacher
To create a shortcut,
1. Enter the Documents section
2. Click Actions> Create shortcuts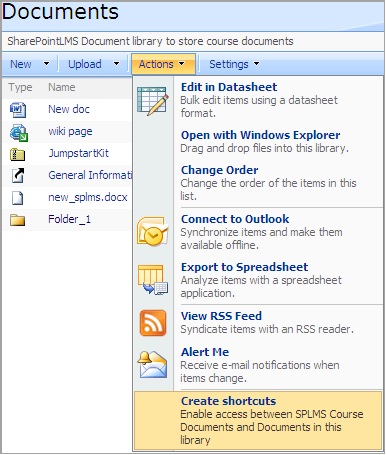 Fig. Creating Shortcuts, step 1
3. Check the boxes against documents you want to share with other courses. Click Next.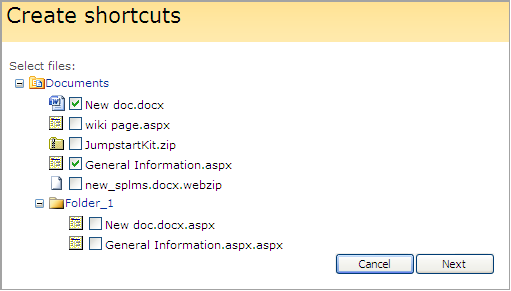 Fig. Creating Shortcuts, step 2
4. Click the Documents link of the course you want to share these documents with.
The link will become bold.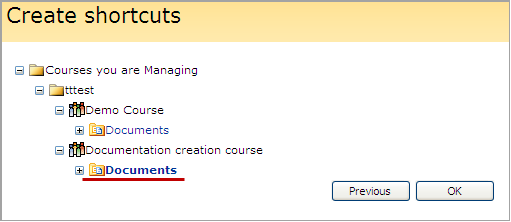 Fig. Selecting Links Location
The links to these documents will appear in the specified course document library.
| | |
| --- | --- |
| | |
| NOTE | Once a shortcut is created users will see a link to a document or a folder. This doesn't mean however they will have access to the item. Make sure users have the corresponding permissions to view the item. |
5. Click OK to confirm the settings. Click Previous to return to the previous page.
8.12.2 Sharing documents between all organizations, courses or SharePoint libraries
To enable the option,
1. Enter the Documents section
2. Click Actions> Pin/Unpin this list
3. To enable the option, check the Pin/Unpin this list box. To disable the option, uncheck the box.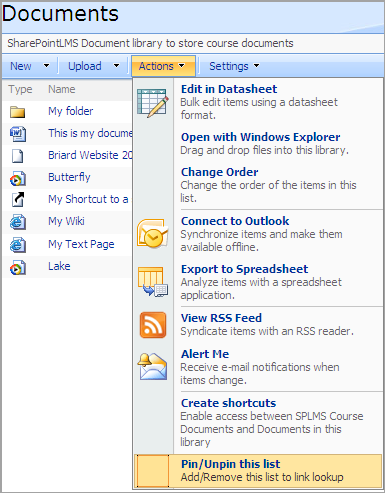 Fig. Pin/Unpin the List
Once the box is checked, the course documents become available to users from different courses and organizations.
NOTE:

1. The option can be accessed by a farm administrator only.

2. Documents may be viewed and linked by any SharePointLMS user.
To access the documents from a different course or organization,
1. Enter a necessary course
2. Enter the Documents section
3. Select New> Link to a document
4. Create a link to a necessary document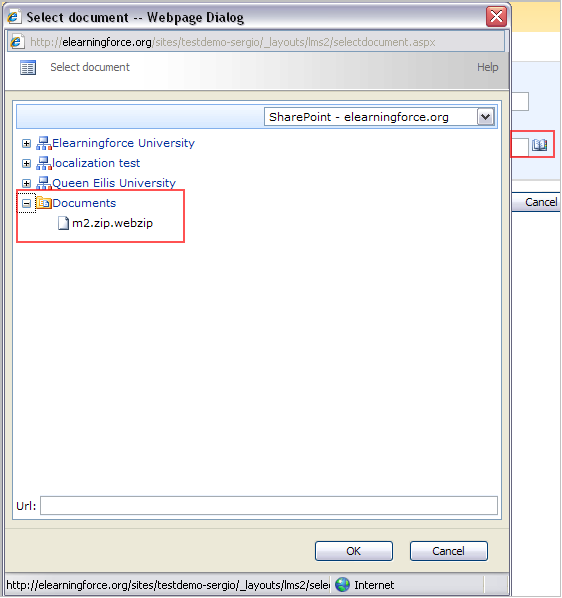 Fig. Creating Link to a Document from Another Course
(For more information, refer to the Creating Links to Documents section).